In August 2023 we made a commitment to the Science Based Targets initiative and are now working with them to set specific and time bound greenhouse gas (GHG) reduction targets that align to what client science deems necessary to meet the goals of the Paris Agreement - limiting global warming to 1.5˚ above pre-industrial levels. We will provide updates on our progress in our annual Sustainability Report.
Our climate goals
As part of our commitment to the Science Based Targets initiative (SBTI) we re-set our climate goals in August 2023.
How have we changed our goals?
We have strengthened the goals that relate to our own operational emissions (those we generate from our offices, company cars and business travel) by adding a specific target to reduce our operational emissions by 65% by 2025 (compared to 2019 emissions).
We have revised our Net Zero goal to align to the Science Based Target initiatives' (SBTi) guidelines (current requirement is to account for 90% of your value chain emissions and reduce these emissions by 90%). Our original goal was to be Net Zero by 2030 which was set before the SBTi guidelines were in place - we still plan to deliver significant reductions by this time, however, it is unlikely we will reduce emissions by enough to meet the SBTi Net Zero standard. Our new goals will see us deliver Net Zero to the SBTi Net Zero standard over two milestones, with the detail to be verified by SBTi and published by the end of 2025.
Lowell's re-set climate goals as of August 2023 are:
To achieve a 65% reduction in operational emissions (scope 1 and 2 emissions and from business travel) from a 2019 baseline by 2025
To be carbon neutral by 2025 (including our Scope 1 and 2 emissions and business travel)
To use 100% renewable electricity in all offices by 2025
To agree a 'Near-term target' to deliver significant reductions in value chain emissions within the next 5-10 years within Science Based Target initiative (SBTi) guideliens and publish the target by end 2025
To agree a 'Long-term target' to reach SBTi Net Zero standard by 2040 and publish the target by end 2025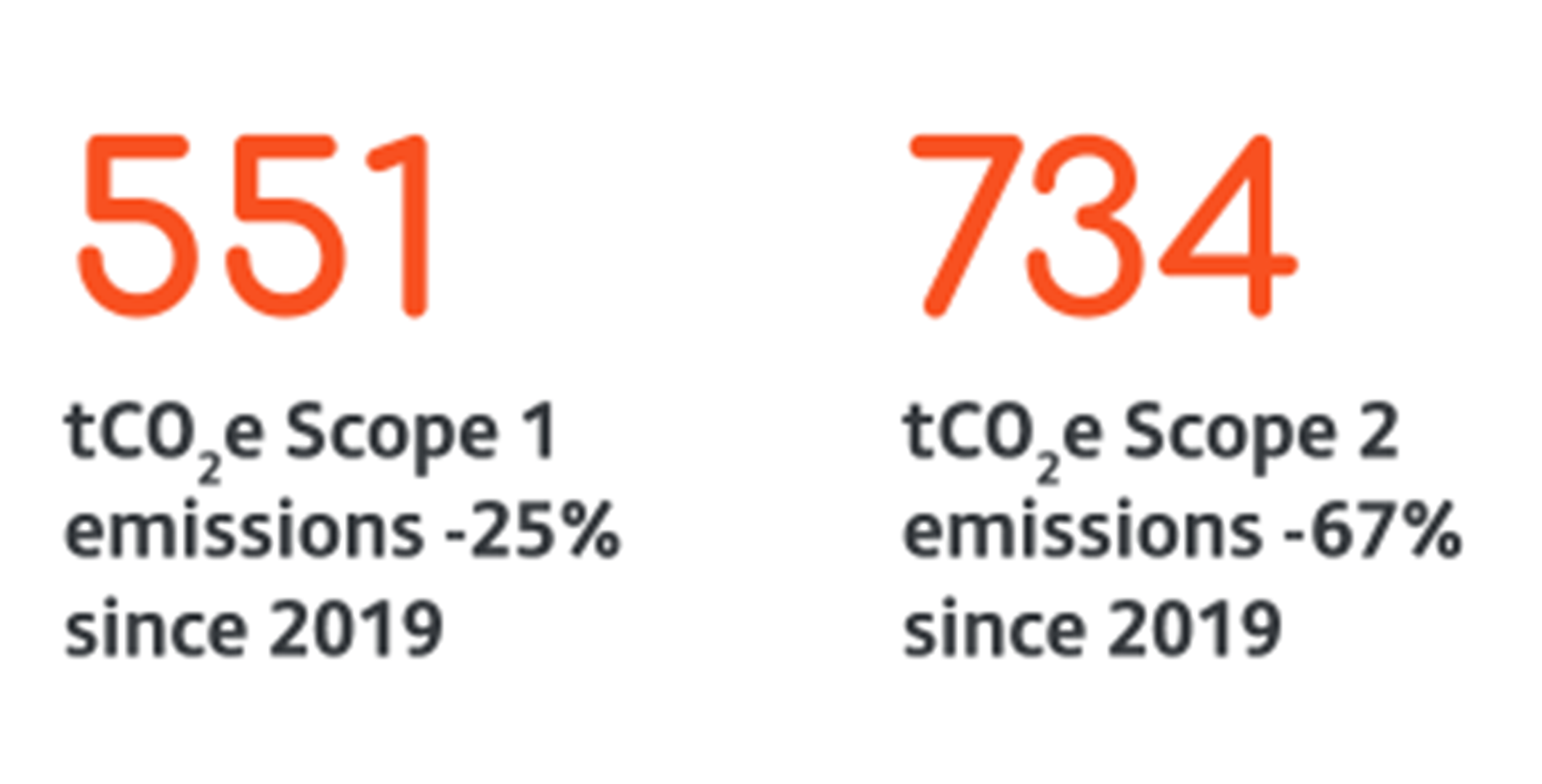 Our carbon footprint
In support of these goals, in 2022 our main environmental focus was on reducing our operational emissions, analysing existing policies and data to optimise our decarbonisation effort, and mapping our Scope 3 emissions (those not produced by our own activities but those for which we are responsible within our value chain). The breakdown of our Carbon Footprint can be seen here.

Energy consumption
Due to the nature of our operations, our largest direct impact on the environment is the energy and resources required to run our 25 offices and our fleet of over 100 cars across our DACH and Nordic regions. However, the shift to hybrid working has provided opportunities to reduce the energy usage across our offices, as well as reducing emissions created by colleagues commuting. We are also continually seeking ways to make the most efficient use of energy and resources in our offices. Our progress towards lowering our energy consumption can be seen here.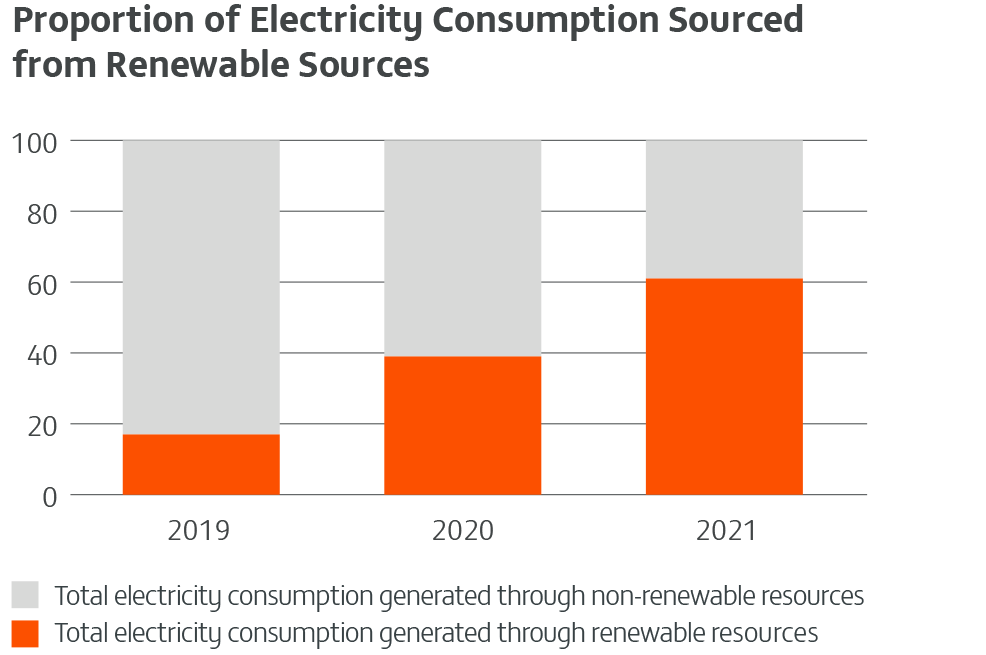 Switching to renewable energy
We used 9.3 MWh of electricity to power our offices in 2021. Switching to renewable sources of electricity and away from traditional 'brown' sources is an important step in reducing our carbon footprint. We already have renewable electricity tariffs for ten office locations, and 61% of our total consumption in 2021 was from renewable electricity sources.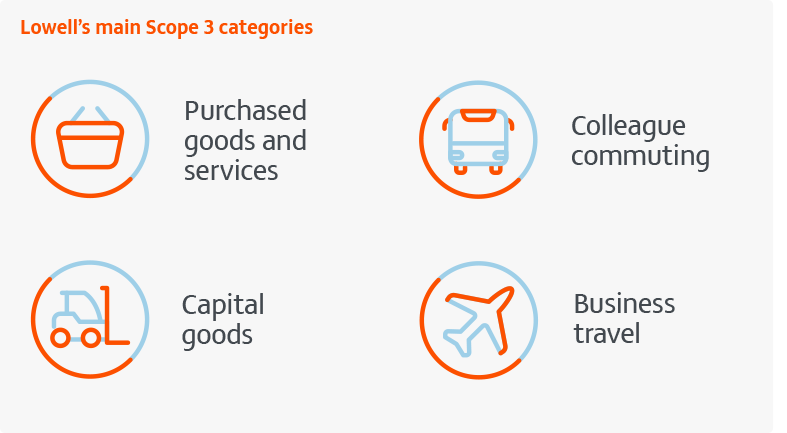 Measuring our indirect emissions (Scope 3)
In 2022, Lowell undertook a Scope 3 screening exercise to get a better understanding of our full value chain impacts. Based on our organisational structure and activities, we worked with our sustainability partners to identify which scope 3 emissions categories, according to the Greenhouse Gas Protocol, are relevant to our business.
Lowell's main Scope 3 Categories
This screening gave us a good basis for completing a more detailed inventory of our emissions and will provide an initial basis for action on reducing our scope 3 emissions. In 2023 we will focus on improving the completeness and accuracy of our activity data. We will then be able to complete a full greenhouse gas inventory.
Our five point plan for emissions reduction
To help us achieve our environmental targets, we have developed a five-point plan for reducing our Scope 1 and 2 emissions. We will do this through:
Switching to 100% renewable electricity across all our sites

Identifying and implementing energy efficiency opportunities on high-emission sites with long-term lease commitments

Optimising office space to align with needs of hybrid working model

Incorporating green credentials into new site requirements

Removing all internal combustion engine vehicles from our fleet by 2030

Waste
In the UK, we have already achieved our goal of sending zero waste to landfill. In 2023, we are developing a new plan to address sustainable waste management, including engaging our Environment Involve Group of colleague volunteers and completing waste audits. Paper consumption is also an area where we identified as being relevant to our business and to the impacts we have on the environment. In 2022, we mapped our paper purchasing and use across the business to help us evaluate ways to reduce paper use.
Sustainability Viewpoints
Sustainability viewpoints: Explore more stories about our commitment to be environmentally responsible
Engaging colleagues on the environment
Formed in June 22, our Environmental Involve Group (EIG) helps our colleagues put their personal passion for the planet to good use.
Learn More